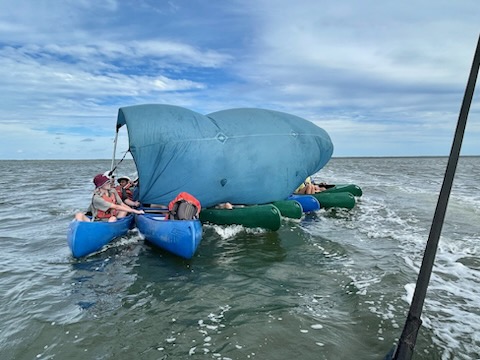 On Monday 6 February, our Year 10 campers arrived at the bus shelter, bags in hand, both excited and nervous as they anticipated the adventure that lay ahead. Year 10 camp is designed to remove our students from the influences of the modern world as much as possible, and to challenge and inspire them, promoting and developing integrity, responsibility, resilience, compassion, environmental awareness, and tenacity in pursuit of a goal.
Higher Ground was refreshing to say the least. It was a new experience for all, with a variety of activities which allowed everyone to find moments to shine. Being able to spend more than class-time with my friends was a delight and allowed for our skills and struggles to be acknowledged, reflected upon and grown from. As a group of a little over 10 people, we learnt about each other beyond what is possible in an academic environment including our rowing and cooking skills! Hiking made for a rewarding challenge with many of us having to step out of our comfort zone but relishing in what we accomplished. Lots of us learnt something new on this camp, whether this was learning to ride a bike, utilising a hiking bag or setting up a tent. Of course, many of us were experienced campers and so the camp experience was not as challenging for us as it was others. We all however embraced the struggle and prevailed; rewarded with what we accomplished. When we had the opportunity to reunite with other camp groups, we were able to see how different their experience was to ours. This proved that camp and its highlights and lowlights are different for everyone. The instructors and teachers also enriched the experience with their endless energy, positive mindset and their ability to lift the emotions of the group. They were a massive help to us all, particularly in regard to cooking, and brought the group together, always ensuring that every student felt involved, connected and encouraged. At the end of the trip, I think everyone was satisfied with what they had achieved. There were struggles at times but as we look back on our experience, we cherish the accomplishment and appreciate returning to our homes and our creature comforts and family. All in all, an amazing experience where we learnt so much about ourselves and our world…..this was Year 10 Camp.
Peter (Year 10 Student)
We established a community quickly, renamed our group (L.0.G.$) and made it a highlight to find a log and get a group photo as often as possible.
Food-wise, my group were onto it. They worked well together, were open to flexibility in recipes and always had praise and appreciation for the chefs. There were a few minor injuries on the first full day on our adventures, but when anyone needed help, there was always someone there to cheer them up or pick up the load when other students could not carry their gear. The positivity was amazing, even during moments which were difficult and demanding.
By the last night, I witnessed the whole group really come together, moving from two separate friendship groups to one. My last photo was of one of the whole group sitting watching stars together. Some even saw their first shooting star.
We encountered a number of both overseas travelers and locals, who bore witness to a very respectable group of kids, doing GREAT and difficult things. They all made lots of lovely comments.
I was very proud of my group. Physically, I'm still aching, but spending the week watching these students show they can be mature young adults and overcome challenges, individually and together made it SO WORTH IT!
Mrs Pinar Wilkins (Teacher)
The students on Year 10 Camp demonstrated resilience and persistence in the most challenging of times. I was so incredibly proud of their mental and physical strength, and of how they loved and cared for each other across the 6 days. It was very challenging, but it also very rewarding! Reflecting on the day each evening revealed just how much every individual had accomplished. Proud teacher moment!
Ms. Charlotte Schmidt (Teacher)
There was laughter and tears, determination, compassion and encouragement, as group members learned to work together as a team. Whilst eager to enjoy a warm shower and the comfort of their own beds, positive comments were abounding as they arrived back to school 6 days later and got off the bus. Thank you to Camp Coordinator, Mr Michael Togher, as well as all the accompanying staff who gave up their family time to give our students the opportunity to benefit from this incredible experience.
Mrs Lauren Young
Head of Year 10