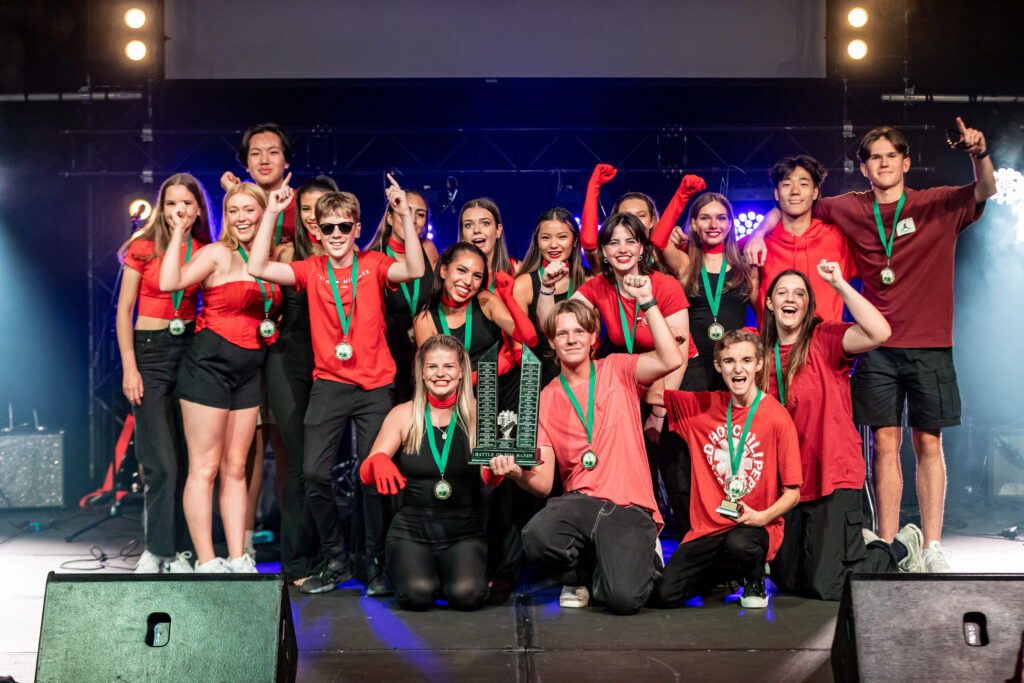 The 2023 Battle of the Bands was truly invigorating and inspiring, with tremendous school spirit displayed on Friday 17 February. With a 550 strong audience, over 60 students took to the stage to battle it out for the 2023 Battle of the Bands title.
This amazing 33-year tradition offers a great opportunity for students to step out of their comfort zone and to give it their all for the benefit of their House. Dancers, singers and instrumentalists, regardless of how experienced they are, are invited to represent their house and become part the Battle of the Bands tradition.
The audience were thrilled to celebrate the talents that each house, Stephan, Strohmeyer, and Mackenzie, displayed and we are incredibly proud of all the students involved as they independently created, directed, choreographed and rehearsed their performances.
There were three very diverse bands, each with their own distinctive style, who each performed entertaining and highly polished sets. Each band had a wonderful selection of repertoire, beautiful vocal and dance pieces, and outstanding instrumental performances. After a very entertaining night, Mackenzie house was crowned the 2023 Battle of the Bands winner!
Special mention also goes to the following students for their outstanding success in being awarded:
BAND
Best vocalist: Ava Beutel
Best guitarist: Liam Coulter
Best bass player: Takoda Franke
Best drummer: Corey Kane
Best keyboard player: Robert Coles
Best instrumentalist: Charlotte Ranse
SONG & DANCE
Best singer: Thalia Jarquin
Best dancer: Tahlae Colson
Best choreography: – Mackenzie – Annabelle Godfrey and Alannah Jarquin
OVERALL
Judges Choice award: Georgie Holyman
We were thrilled to have Shannon Hatchman (Dance), Scott McDuff (Instrumental) and Alumnus, Sophie Kleinschmidt (Vocals) as our esteemed judges. They were blown away by the high standard of all performances, the electrifying atmosphere and the spirit of the event.
Thank you to the much loved "staff band" who took centre stage whilst the judges were deliberating and gave a fantastic performance yet again. This was without a doubt, the BEST STAFF BAND EVER!!!
Congratulations to past students, Abby Bradley and Emily Zauner, our MCs for the evening, and to all staff who made the evening possible, including Mr Clarke and the Performing Arts department. The night was a true celebration of school spirit and community, and we look forward to upholding this great tradition in 2024.
Ms Cherie Smith
Director of Arts