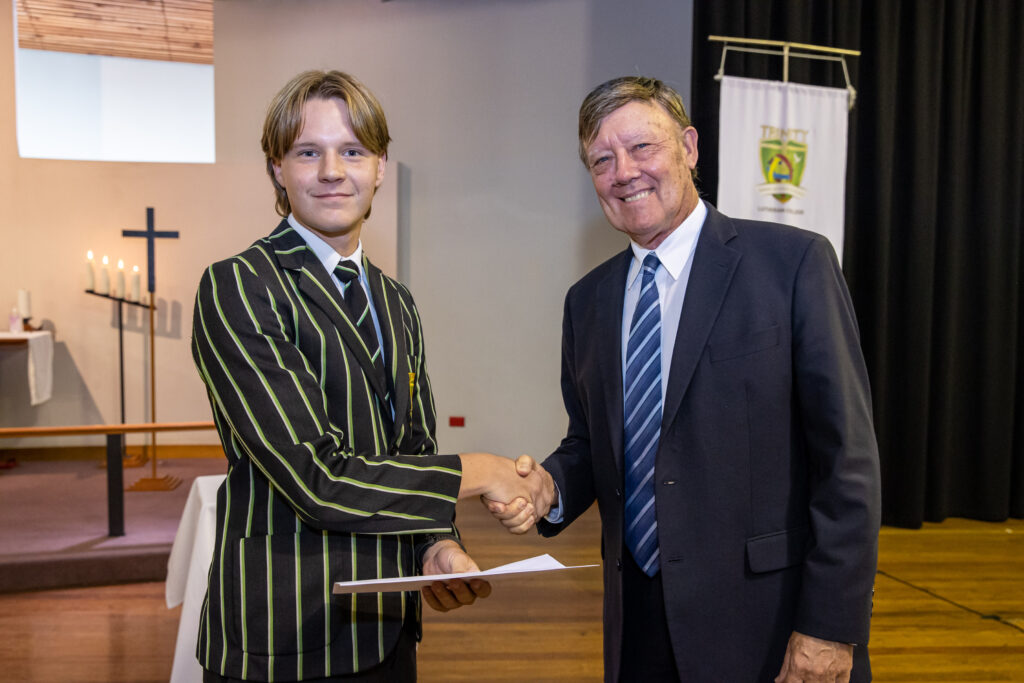 Annually, at our Installation Service in Term 1, five very special awards are presented to deserving students.
The Megan Morris Performing Arts Award
This bursary was established in 2005 as a memorial to Year 11 Trinity student, Megan Morris, and was established as an encouragement award for an individual who demonstrates a commitment and desire to achieve in a variety of areas in the performing arts, and a dedication to the College community.
The 2023 recipient is Year 12 student, Corey and the award was presented by Professor Philip Morris.  Corey has immersed himself in the co-curricular program at Trinity for the past 6 years, making outstanding contributions to choral and instrumental ensembles due to his outstanding musicianship, natural leadership and genuine infectious enthusiasm for the Arts.
Recently recognised as our College Arts captain Corey continues to be a dedicated member of Battle of the Bands, Trinity Rock Band, Big Band, College Choir and has been a proud cast member of multiple major productions including One Night Only and We Will Rock You.
He studies Music and Music Extension and is passionate about a future in the arts, intending to study music production.
The Emma van Burck Science Prize
This award was established in 2014 for a senior student as a memorial to Trinity Alumni, Emma van Burck. The van Burck's annual gift recognises a senior student who has shown Emma's passion and interest in the area of Science.
The 2023 recipient is Year 10 student, Eunju Lee who was on Year 10 camp at the time of the Installation Service and was presented with her prize on camp in front of her peers.
The Rob Mackenzie Mirror of Hope Award
Nick and Kim Hopkins have a long history with the College and donated this award as an expression of their gratitude to Trinity. The award is named for College Bursar, Rob Mackenzie, who showed their family compassion and empathy, and also for the Mirror of Hope charity.
Half of their annual gift goes to Mirror of Hope, and the other to a Trinity student who has made an exceptional effort to raise funds and volunteer at a charitable organisation in the preceding year.
The 2023 award recipient is Year 12 student, George, presented by Mrs Kim Hopkins. George has been involved in rebuilding the Currumbin Special School's community garden project. He has raised money to fund the materials for the project, build a wheelchair path and has also worked with indigenous elders to construct a yarning circle at the school.
He connected with the students by educating them about gardening and nature and volunteered significant time in doing so.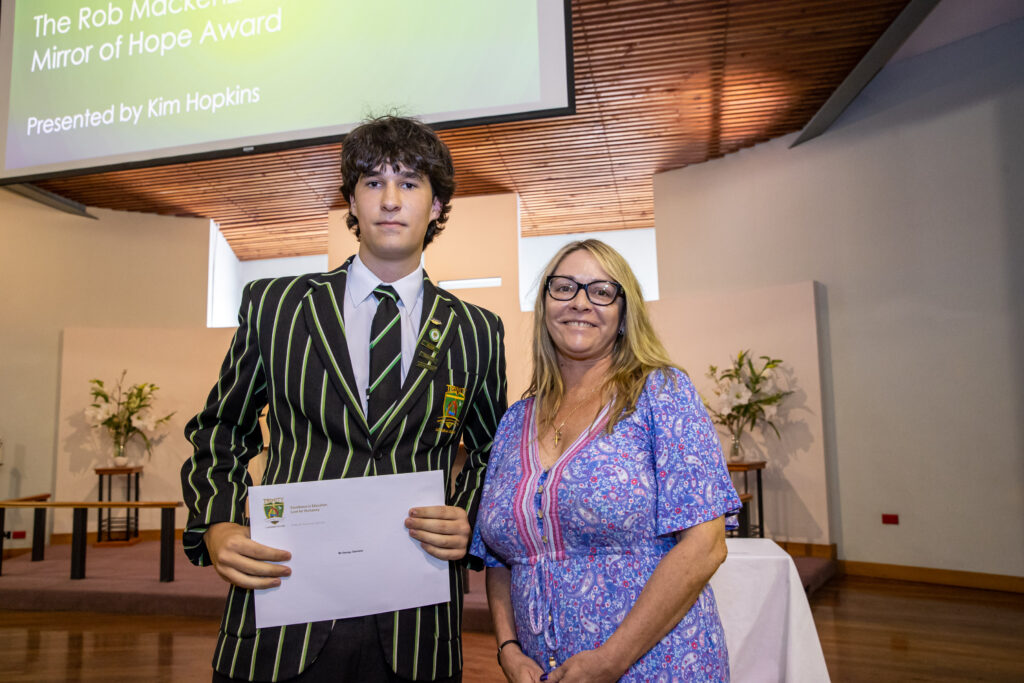 The Fuller Family Global Citizenship Award
 The Fuller family have a long history with Trinity and established this award to encourage a student to demonstrate connectedness and cultural empathy, understanding, as well being a positive role model for other students.
The 2023 award recipient is Year 12 student, Harrison. Harrison has always been passionate about international affairs and global citizenship. He has enhanced his understanding and empathy through various activities including debating, public speaking and local council.
Throughout 2022, Harrison served as the Deputy Mayor of the Gold Coast City Junior Council, where he interacted with our local politicians and participated in promotions for the city's transport infrastructure and interviewed Mayor Tom Taite discussing future housing plans.
As part of Trinity's Model United Nations team, Harrison competed at various assemblies at local and state level, reaching national level in Canberra, where he, and teammate George placed 3rd in Australia.
Harrison also chaired an online international MUNA assembly hosted from Singapore, communicating and connecting with students from across the world.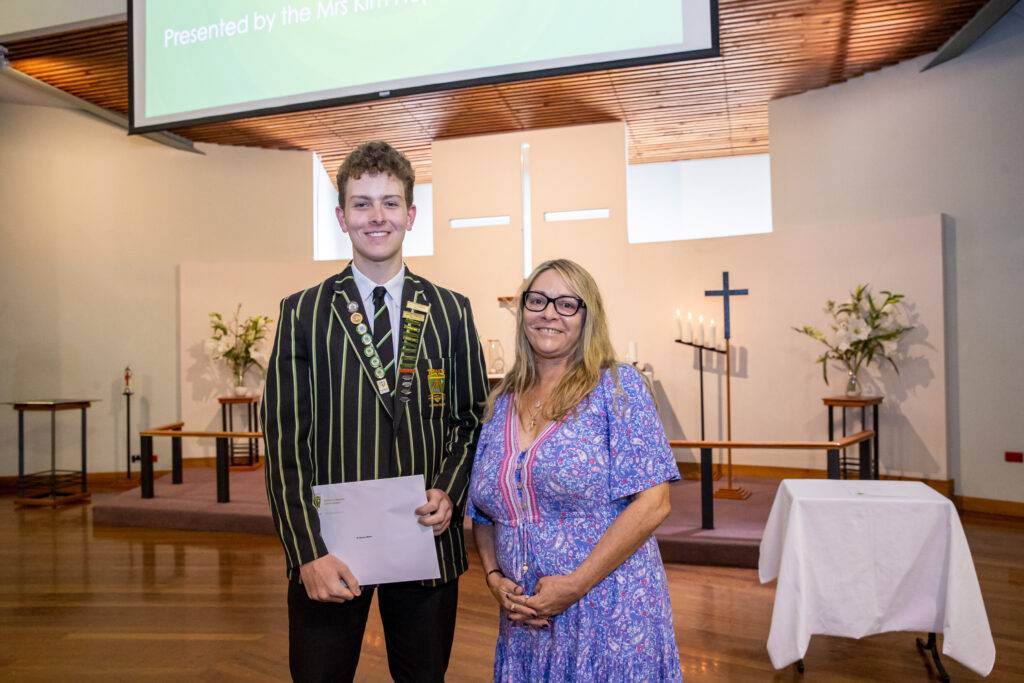 The Fuller Family Aspiring Olympian Award
The Fuller family established this award to encourage a student with potential in sports to demonstrate the Olympic ideals, continue their pursuit and commitment to sports and be a positive role model for other students.
The 2023 recipient of this award is Year 11 student, Jack. Jack is an extremely talented football player and track athlete.
In 2022 he claimed two medals at the QLD Athletics Championships, resulting in selection in the State Team to contest the National Track and Field Championships.
Jack's athleticism transfers to the football field where he plays at representative level for his club and was a valuable member of the Trinity First 11.
Off the sporting field, Jack is just as impressive. He is humble and highly respected by his peers and teachers, whilst demonstrating a quiet, yet strong determination for success.
At all times, Jack is an outstanding Trinity ambassador who is a positive role model for his fellow students.