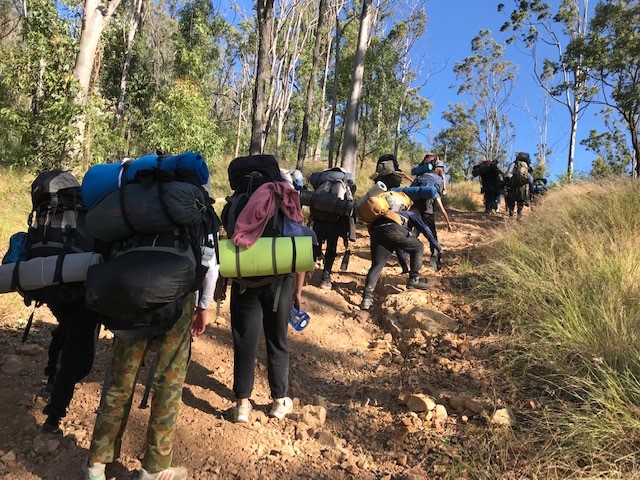 Camp Kokoda is a 660-acre outdoor education property located on the southern shores of Maroon Dam that provided our Year 8`s with a wilderness camping experience. For the four days and three nights, our students were spread out across the property and all had the benefit of amazing views, whether it was looking at Maroon Dam, the bold face of Mt May or the majestic peaks of Mt Barney.
The onsite activities and expedition experience away from the distractions of technology and modern conveniences meant that the students could connect with one another as well as develop their leadership skills.
Our students all embraced the ideology of Kokoda Spirit – Endurance, Courage, Sacrifice and Mateship – and the life-enhancing values derived from the stories of the Kokoda Track in World War II.
Camp Review 2022 – by April McIntyre
We arrived at school with the crisp morning air ready to greet us. With cheesy smiles and oversized trash bags, we were ready for what would prove to be an amazing, yet eventful week.
After what felt like a thousand years, we finally made it to this exciting campsite, and began emptying our black bags, discovering that we may have overpacked somewhat. Our cohort all struggled to hike the short distance to base with our huge, new, and improved bags (little did we know, that it would get a lot harder). Stuffing what felt like already overpacked bags with our tents, and meals for the next 24 hours, we were then set to start hiking.
Our group somehow ended up with the best campsite, pitched between 2 mountains, which protected us from what felt like a deadly wind. Later, after a short, yet muddy hike, we arrived at the first activity. Enthusiastic, we started high ropes. We were thoroughly enjoying ourselves until we saw someone ziplining in the bush next to us (at that point, we felt a bit jealous, but it did give us something to look forward to).
After a great time on the ropes, we headed back to camp where the girls prepared a delicious sausage curry, which felt well deserved after the long day. We also received a sweet surprise, chocolate damper, which satisfied my sweet tooth.
The rest of the camp trip was spent at the base, as a result of the unsafe weather conditions, but we all still had a great time participating in many enjoyable activities. Many of us conquered fears, met new peers, and really enjoyed the break from our busy lives.
Overall, it was a great experience, and I would most definitely recommend it.
Camp Review 2022 – by Hudson Dilkes
We arrived at school on Monday 30th of May, ready to embark on our adventure to Camp Kokoda, along with our trash bags. We had heard a lot about this camp, some good things, and some bad, but we all went in with an open mind.
After a long 2-hour bus drive and just one toilet break, we finally arrived. Waiting for us was a long road with a big hill. It was too late to back out, so we started walking. We finally reached our first area where we met a huge pile of large hiking bags into which we had to transfer the items from our garbage bags.
We kept walking before finally reaching basecamp where we faced our first activity, the flying fox. This was a favourite of everyone as everyone always had a job. We then hiked up to our first campsite where it was super cold and windy. Our first challenge there was figuring out how to set up our tents!
On Day 2 we headed back down to base from where we were supposed to then hike up to the top of the mountain and camp, but the wind and weather prevented this. Instead, we went crate stacking and followed by sugar gliding, both of which required a lot of teamwork.
On Day 3, the wind had died down and we were able to hike up to the top of the mountain to do high ropes and abseiling which were both challenging. Abseiling required us to conquer any fear of heights and step backwards to take on the mountain. We went back down to the base, got our packs and went back up to a campsite halfway up the mountain.
On Day 4 we had a short debrief at the campsite before heading down to base camp for our last meal and to put all our things back into our garbage bags. Our buses arrived, and we were on our way home to meet our parents standing on the school driveway waiting for us. Overall, this camp was a lot of fun, and I would recommend going and experiencing it.