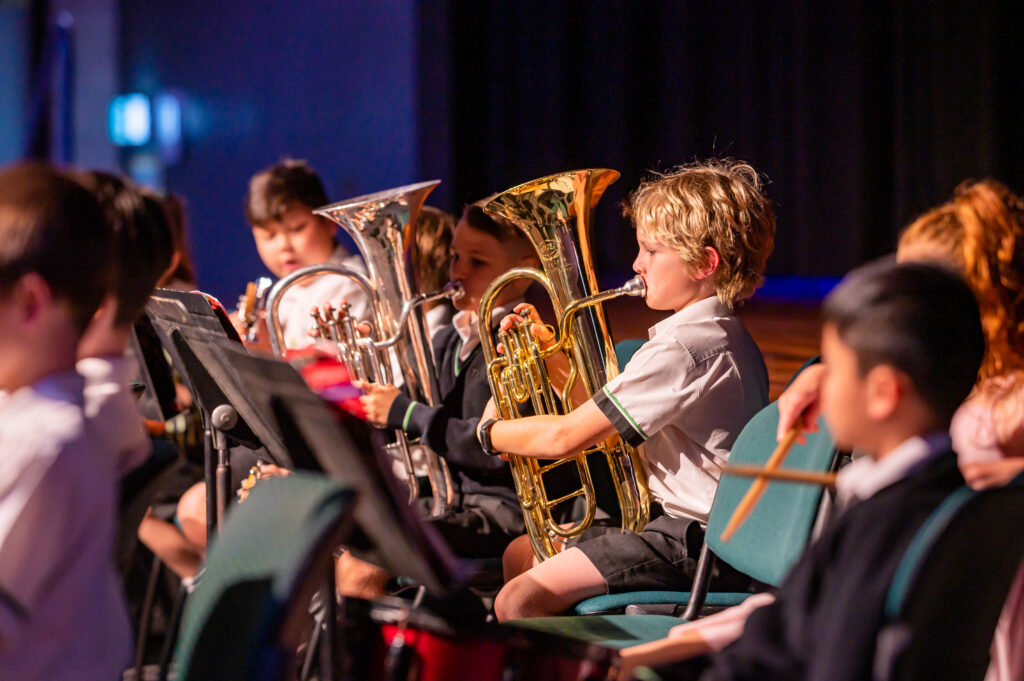 At Trinity, we believe passionately in the role of Performing Arts as an important part of the holistic education offered at the college. Our Performing Arts program is devoted to excellence across all artistic genres; Acting, Choral, Dance and Instrumental for all levels from beginner to advanced.
The weekly co-curricular program is offered free of charge across both campuses for all students enrolled at the college. On our Junior Years Campus, the following ensembles are run every week, free of charge for all students who want to participate:
DANCE
Jazzettes for Prep and Year 1
Starlets for Year 2 and Year 3
Dynamics for Year 4 and Year 5
Primary Sacred Dance (Advanced Primary Dance)
The Boyzcrew (Boys Dance)
CHORAL
Sparkles Choir for Prep
Piccolo Choir for Year 1, Year 2 and Year 3
Bel Canto Choir for Year 4 and Year 5
BAND
Beginner Band (Year 4)
Concert Band (Year 5)
STRINGS
Beginner Strings (Year 2)
Primary String Ensemble
Advanced Primary String Ensemble
DRAMA
Junior Drama Club for Year 4 and Year 5
One of the benefits of a relatively smaller school is that we require mass participation to make our big productions happen (these take place every alternate year). No matter their abilities or experience, every student from Prep to Year 12 can participate to pull off something remarkable together.
During the year that we do not run a musical or spectacular we always look forward to showcasing our wonderful Junior Years performers at the FUTURE STARS CONCERT. This event is always a highlight as being in any performance helps our students to develop their confidence and their creativity, which shine through in their dancing, singing, playing and acting. They just love being up on stage performing for friends and family and hearing the cheers and claps and this year was no different so a very big thank you to all our parents for supporting them on the night. Your support means so much to our children and our staff.