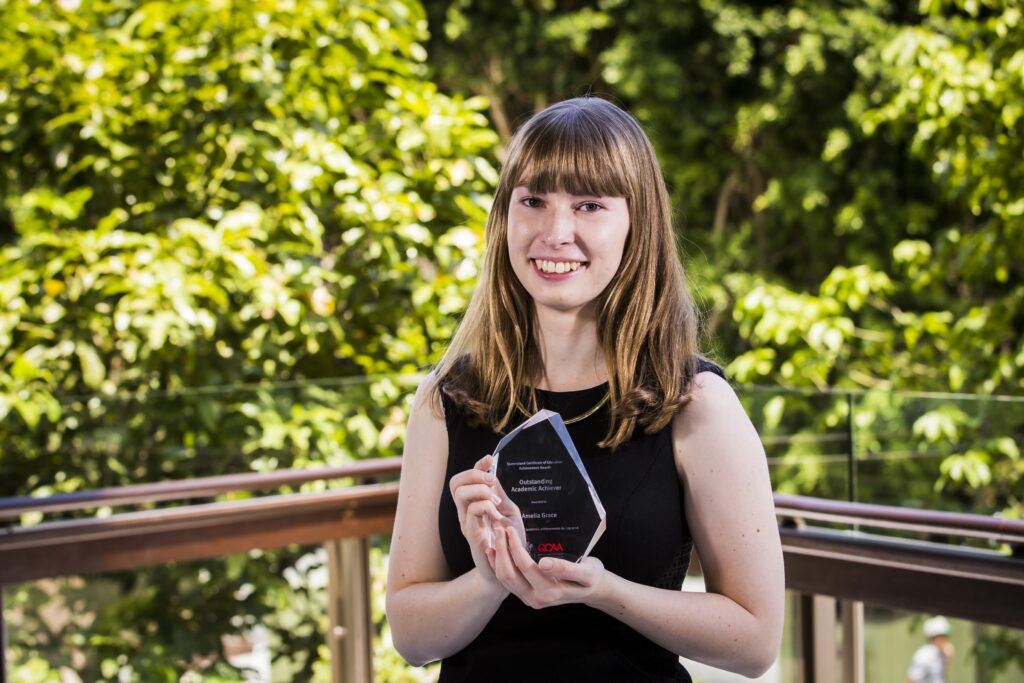 Amelia Grace is a Class of 2016 Trinity graduate (and a Prep to Year 12 Trinity student) who was the 2016 recipient of the Outstanding Academic Achievement Award by the Queensland Curriculum and Assessment Authority. This award recognised her as the TOP Year 12 student in Queensland in 2016.
Choosing a school is one of the most important decisions parents will make for their children and there are so many factors to consider. We did an interview with Amelia's parents, Andrew and Pepita, to gain some insight into why, out of all the great schools on the Gold Coast, they chose Trinity for Amelia.
Tell us something about yourselves and your family life and what is most important to you.
We place great importance on our role as parents and on bringing up our child with good Christian values, especially respect for oneself and others and on striving to always achieve one's best.
What, for you as parents, were the most important factors to consider when selecting a school for Amelia.
We were looking for a school that offered good leadership, a knowledgeable and caring staff, good resources and a safe and nurturing environment. I went looking at schools while my husband was working, primarily looking for a school that I got a good feeling about. The day I arrived at the Trinity Lutheran Junior Years campus it was pouring rain and I had parked outside the school on the roadside. I fell over in the rain getting out of the car and by the time I had reached the office my knee was bleeding and I was feeling very sorry for myself. I reached the office and was immediately assisted by a number of people who had no idea who I was or why I was at the school. I was overwhelmed by how concerned and caring they were. This I knew was exactly the care and attention I wanted for my child. Trinity also impressed both my husband and I when we attended an introduction evening to meet the teachers. We met three dedicated Prep teachers that were passionate about what they were doing. Trinity stood out.
There are many excellent Independent Schools on the Gold Coast. What makes Trinity stand out from the rest and why did you choose Trinity for Amelia?
Trinity stood out because it provided all that we expected and the staff showed that they took an interest in and cared for each child. The motto at the time was every "child a star" and it was apparent that they were passionate about education and developing the whole child. We felt Amelia would thrive in this environment.
What are some of your fondest memories of your time as a parent of Trinity?
I loved attending the weekly Chapel during Amelia's Junior Years. I was brought to tears each week listening to all those beautiful children singing the happiest, most uplifting religious songs. We always looked forward to seeing Amelia on stage performing in musicals and plays or doing a class presentation. Trinity had so many wonderful events for parents to attend: the Art Show, the family picnics at Hinze Dam, Performing Arts events. We delighted in attending all the Awards ceremonies each year. The school always encouraged Amelia to be an active participant in all they provided.
Please describe how you believe Trinity helped in Amelia's success at school and in preparing her for life after school and for her future chosen career.
Trinity helped Amelia to develop all aspects of herself not just her intellect. They met with us throughout each year to discuss her personal development, her goals and her achievements. Amelia learnt to see things from other people's perspective, she learnt resilience, persistence and to always strive for improvement. During the Middle and Senior Years we noticed many of Amelia's teachers went out of their way to help her achieve high marks in the subjects she studied.
Trinity helped to develop all aspects of Amelia's personality and gave her the opportunity to try different pathways such as The Challenge Award where she went to the University of Queensland Morton Bay Research Station to gain experience in Marine Biology. She also took part in the Griffith Science Projects and was able to attend Aspiring Women in Science.
Amelia was a Prep to Year 12 student of Trinity. What are some of the changes you noticed at the college over your time as parents there?
During the time that Amelia attended Trinity there were improvements in infrastructure such as the development of the Prep area, the increase in size and upgrading of Junior Years classrooms, the ongoing improvement of playgrounds and the introduction of technology to facilitate the use of IPads and laptops within Middle and Senior Years. When Amelia attended the Trinity Ashmore Road campus the Middle Years had just been introduced. Trinity built the John Stapleton Indoor Sports Centre and constructed a new oval. Amelia benefited greatly from these new facilities.
What advice do you have for parents when it comes to choosing a school for their child/children?
Find a school with teachers that have a great attitude and are passionate about giving the children the best possible education.
What is the best advice you can give parents about their child/children's education and schooling life?
The best advice we can give to parents is read to your child and communicate with them. Allow your child to experience books with you and listen to them read as this sets the foundation for a lifelong love of learning. Spend time developing a strong relationship and then anything is possible.