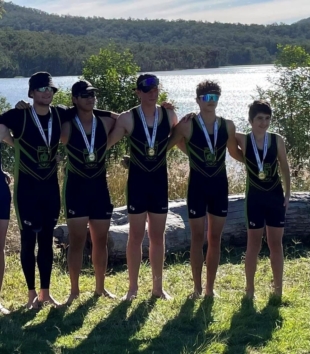 Congratulations to the Trinity Rowing Squad for their excellent performances and results at last weekend's South QLD Rowing Championships. Despite the Saturday part of the regatta being abandoned due to extreme winds, our rowers excelled on Sunday, with numerous students claiming medals, qualifying for finals and putting in stellar performances against quality opponents.
Thank you to the Trinity rowing families for their commitment and support of our program and in particular, the members of the Rowing Supporters Group for their tireless efforts throughout the season to date.
Thank you to Mr Sam Duncan who has stepped up in recent weeks to oversee the Trinity Rowing Program following Mr Pistotnik's relocation to South Australia. We look forward to welcoming our new Head of Rowing, Mr Erik Rowan to the College next week. Mr Rowan comes to Trinity with a wealth of knowledge and expertise as a rower and program co-ordinator.
Congratulations to the following medal winners from the South QLD Rowing Championships:
Schoolboys Quad Scull (Coxed): Gold
1st place: Johahan, Ermin, Robert, Troy, Georgio
School Boys Year 11 Double Scull: Silver
2nd place: Johahan, Ermin
Schoolboys Year 11 Four (Coxed): Silver
2nd place: Johahan, Ermin, Robert, Troy, Georgio
Schoolboys Year 8 Quad Scull (Coxed): Gold
1st place: Phaidon, Ryan, Ben, Justice, Lili
Schoolgirls Year 8 Double Scull: Silver & Bronze
2nd place: Molly, Lillie
3rd place: Elina, Stella