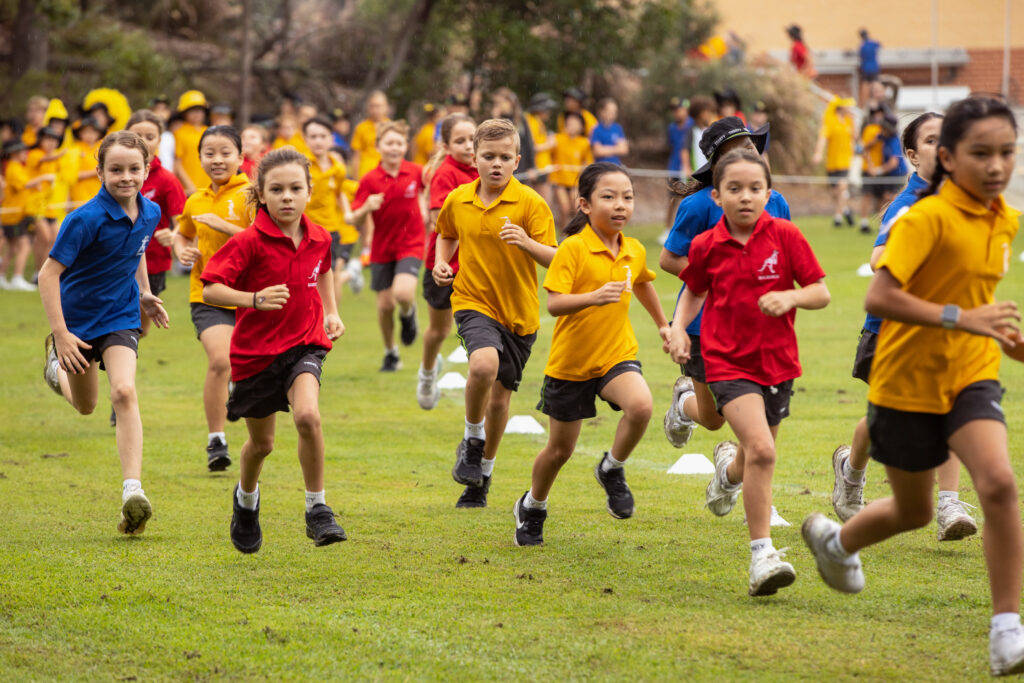 Sport at Trinity is part of the holistic educational experience afforded to all students. Trinity proudly caters for all levels of athletes; with a vision and structure to effectively develop the skill set and performance level of all students. Ultimately, the diverse and structured sports program afforded to all Trinity students, aims to develop the Head, Heart and the Hand; whilst at school and beyond.
Trinity students have the opportunity to have all their fitness needs meet in one place. This entails strength (gym), stamina (cross country) and speed. These fitness components are integral to not only cross country and athletics; but also all sports within the Trinity sports program. The gym is open 5 days a week under the expert watch of college staff member Mr Luke Ryan. His programs are tailored to suit the age, experience, sport and needs of the student. Cross Country training is offered across the week with the prime focus of developing aerobic endurance; an important backbone to any sports program. Our F.A.S.T program (Foot Speed + Agility + Speed Training) complements our Cross Country program and students have the opportunity to 'get faster' for their court or field – based sports. The F.A.S.T program blends into sprint training for the athletics season.
Our Inter-house Carnivals are always well supported by our students and lots of fun. With strong student attendance, fervent house support and first-class racing, our Inter-house Cross Country carnivals held last term were a huge success, despite the inclement conditions. Once again, the day was divided into two separate carnivals, with the 9 to 12 years competing in the morning and the 13 years to Open competing in the afternoon. The standard was high across both carnivals and desire for house points was very evident. All students competed on the 'campus loop course', which provided a great opportunity for spectators to absorb the battles that were unfolding on the track. The course deliberately blended fast oval running, with sharp, short hills to effectively test all runners. Every student who toed the start line and competed at least one lap earned valuable house points, whilst those who showcased their skill and tenacity, and placed in the top 15 contributed valuable additional points.
Congratulations to Strohmeyer who claimed the overall aggregate trophy in the Junior carnival,and to Stephan who took out first place in the Senior Carnival. Further congratulations to Strohmeyer for claiming the Spirit Shield in the senior event. Thank you to Mr Croll and the grounds staff for their considerable devotion of time and energy in setting up and packing up the carnival, and to the Trinity teaching staff who performed various, valuable jobs on the day (including actual physical participation) to ensure the smooth running of the event.
Congratulations to following students who claimed age championship medallions and trophies for placing in the top three in their respective age group:
| | | |
| --- | --- | --- |
| 1st | Sebastian Zorzo | Emma Xie |
| 2nd | Charlie Shepherd | Tiffany Ho |
| 3rd | Tony Paterno | Sabella Coleman |
| 1st | Oliver Ruscitti | Scarlett Hodges |
| 2nd | Morgan Campbell | Mia Smith |
| 3rd | Ryan Laffan | April Miles |
| 1st | Axel Hill | Sophie Taylor |
| 2nd | Wolf Nuyttens | Kayla Hansmeyer |
| 3rd | Josh Thompson | Addison Churchill |
| 1st | Jack Fanning | Sarah Kalogeropoulos |
| 2nd | Alex Hayes | Savannah Yared |
| 3rd | Jackson Kennedy | Matilda King |
| 1st | Luka Brown | Ella Cosgrave |
| 2nd | Charlie Churchill | Georgia Scantlebury |
| 3rd | Rhys Neuss | Kiara De Vito |
| 1st | Jack White | Isabella McMahon |
| 2nd | William Horsey | Sienna Yared |
| 3rd | Pepjin Nuyttens | Andi Hill |
| 1st | Archie Hill | Maddison McDougall |
| 2nd | Noah Morton | Scarlett Fanning |
| 3rd | Hudson Dilkes | Chloe Fielding |
| 1st | Oscar Yared | Liana Cox |
| 2nd | Kristian Raaschou | Siena Cox |
| 3rd | Benjamin Mack | Elizabeth Horsey |
| 1st | Liam Lipscombe | Pia Mucci |
| 2nd | Josh Waters | Kirra Bolitho |
| 3rd | Marcus Deetlefs | Alexandra Kennedy |