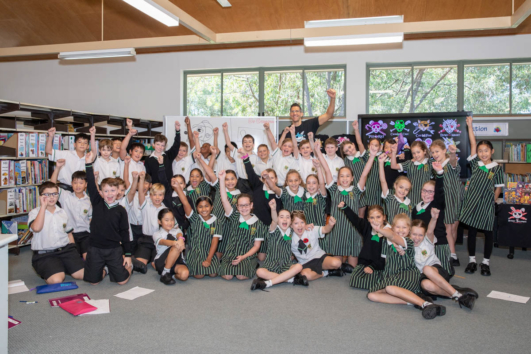 Cameron Stelzer, author and illustrator of the Stroogle, Scallywags, and Pie Rats series of books, was our special guest at Cotlew Campus on Friday the 23 April to workshop with our Year 4 students.
His visit was an exciting provocation for the Year 4 Unit of Inquiry "How we express ourselves". The unit is driven by the central idea "Imagination extends our ability to think, create and extend ourselves".
Cameron held 2 focused workshop sessions over the day. In each 2-hour session he fired up Year 4 student imaginations with his engaging, fun presentation. "Imagination makes things exciting" he says. He shared tips for narrative writing; including where to get inspiration for writing ideas as well as sharing advice, tips, and techniques for improving narrative writing. Cameron encouraged the students to write original and imaginative stories. As a talented artist and illustrator Cameron also inspired the students with drawing techniques.
The students also had time to practice putting his ideas to work, brainstorming, writing, and sharing their imaginative writing ideas with each other.
Student reflections included:
"I really liked it when we were writing about a battle with Cameron Stelzer. It was fun with the imagination we had in our mind" (Luke)
"My favourite thing about the author was learning how to draw and use my imagination in a story narrative" (Lucien)
"I've always had a fierce imagination and creativity is a definite yes. Narrative writing is my favourite, so Cameron Stelzer was an awesome experience. (Hana)
"I really liked the Cameron Stelzer visit because it's linked to our unit of inquiry. We drew, wrote a story based on our imagination. I really love his books because they are really funny" (Niya)