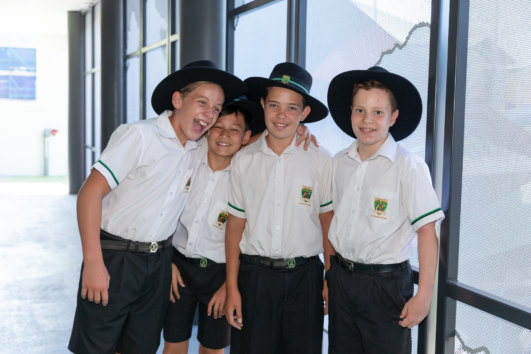 Last week, I discussed how family support and a positive home environment contribute significantly to student success at school. This week, I have focused on how a student's personal management skills contribute to their success at school.
In the past, many educators used measures of intelligence, such as IQ tests, to predict academic success in young people. However, current research studies show that personality traits may be better indicators of academic success.
Leading psychologist, Arhur E. Poropat, identified that conscientiousness, having a growth mindset and emotional stability are better predictors of student success at school than the IQ test is.
As parents and educators, we can foster these traits in our children by teaching and encouraging them to persevere and follow-through with plans and goals; by challenging them to improve on their previous attempts at assignments and assessment scores, offering them incentives to do so; by providing them with challenging projects that require their imagination and discovery; by creating environments where these young people feel comfortable and safe to share their emotions so that they learn the skill of emotional control; by using fun, hands-on learning experiences to engage and encourage them to learn about new topics and ideas. Mastery of these skills is a long-term process, not something that is achieved overnight or through one-off attempts but, as our children put effort into developing them, we (the educators and parents) can be their cheerleaders, providing positive feedback and acknowledging their progress and growth in these areas, not just in test or assignment results.
Social circle and influence are, not surprisingly, other personal aspects that increase the likelihood of success in school. Peer pressure is huge for young people so if it is positive, the impact on attitudes and behaviours will be positive. Conversely, if the peer influences are negative, then, according to Dr Wilda Heard, they would be a negative social contagion. Such negative behaviours will spread rapidly like germs throughout their social group.
So, as parents and educators, we should coach our young people to make good choices as regards both their friends and their actions. We should encourage them to be the positive influence in their social network, rather than being a negative influence. We should not however demand that our children avoid someone who is a negative influence because this can cause conflict in the parent-child relationship. A better strategy is to encourage children to get involved with positive groups such as youth fellowship groups, volunteer organisations and sporting teams, performing arts ensembles or educational clubs.
Young people are growing and developing daily. As the village elders, our role is to mentor and coach these young people to become contributing global citizens ready to serve the world. Let's work together to ensure our young people enjoy continuous success throughout their schooling life. #HeadHeartHand #WeAreTrinity