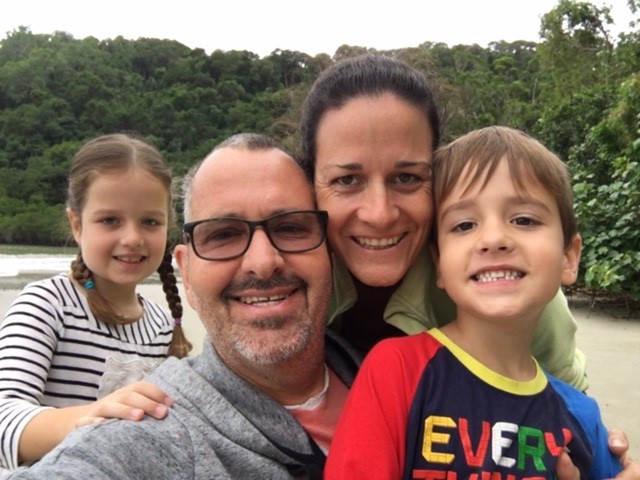 Tell us a little about your background and family?
I grew up on a farm in country Victoria, lived in Melbourne for 10 years for boarding school and then Uni/work, and then I moved to Queensland for teaching. I am married to Stephen (also a teacher in a Lutheran School) and we have two children: Sarah (9) and Ben (8).
Tell us about your professional background?
My first paying job was as a shearer's hand (!) I then scooped ice-cream for a while. My first job in a professional capacity was as a Molecular Biologist working in the area of treatments for children's diabetes and cancer signaling pathways. And now I'm a teacher of Science and Christian Studies and leading Wellbeing.
What drew you to Trinity Lutheran College?
Trinity has a great sense of community, it is a Lutheran School and there is a strong focus on Wellbeing.
What do you bring to Trinity from your previous experiences from a career/work/life experience perspective and as a parent?
I have experience in restorative practices, real-world experience as a scientist. My philosophy is to treat students as you would want your own children to be treated. Each child is a unique creation with dreams, talents, strengths and a purpose.
How would you describe your own school-going self (what you were like at school)?
Quiet, class nerd and followed the rules. I really enjoyed senior school.
What book inspires you and why?
I really love "Hatchet" by Gary Paulsen (I know, it's a young adult book) in terms of perseverance in dire circumstances and the appreciation of the nature world.
Who has been your biggest influence?
Spiritual life – my mum; professional life – Ruth Butler (my first school principal), personal life – my husband Stephen.
What is the best advice you have ever been given?
"Nobody ever died wishing they had worked more."
How do you relax / what do you do in your spare time?
Read, go camping with my family, hang out with friends, Wordle!
What is your favourite music?
Anything that's not heavy metal or country.
What is the most adventurous thing you have ever done?
Hiked to Machu Picchu (twice!)
What is your best quality?
Integrity.
What are you most excited about, having joined Trinity?
Finally getting to meet staff and students in person instead of online.
What do you like most about your profession?
The privilege of journeying with young people through adolescence.
What do you like least about your profession?
The continual adding to teachers' workload.
What do you do for exercise / wellbeing?
Walk early in the morning, pray, get enough sleep, phone a friend.
What is your favourite sport or cultural activity to watch or participate in?
Musicals (watch).
What would you be doing if you weren't in the teaching profession?
Personal Travel Planner or Organisational Consultant.
What accomplishment in your life are you most proud of?
Professionally – completing my Honours in Genetics; I have never worked so hard for a year. Personally – that both my kids are happy in life.
What has been the biggest challenge or obstacle you have faced in your career?
Being a graduate teacher with a class of 32 Year 8s for double Math every Friday afternoon.
What's your one biggest pet peeve?
Shocking use of apostrophes at grocery stores – eg. Mango's.
What is one thing you wish you knew when you were younger?
There is no fixed path to your ideal career; most people don't figure out theirs until many years after finishing school.
What is one thing people would be surprised to know about you?
I volunteered in a Malaysian orphanage for a month where no one could speak English. Learning Tamil from the children was a crazy experience.