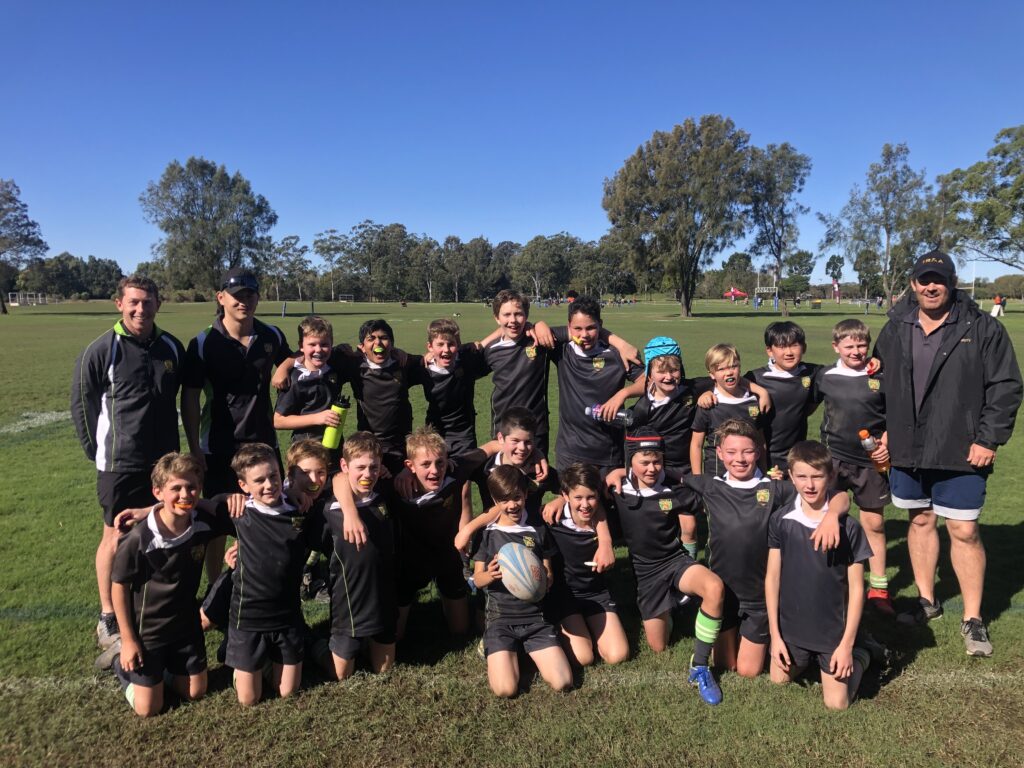 On what was unquestionably the coldest June morning the Gold Coast had experienced in a long time, 20 young rugby warriors (and a couple of coaches) assembled at the bus shelter ready to undertake Trinity's first rugby tournament in a number of years.
In a fitting ending to a very interrupted year, the rain that had wreaked havoc with our season (especially our training) provided a silver lining – with school ovals out of action for athletics, a small window had opened, allowing our U12s (Years 5 and 6) rugby team to play in the annual Daley Norton-Knight Cup held at All Saints Anglican School.
The DNK Cup is a round robin rugby tournament that invites schools from around Queensland and Northern NSW to play abbreviated 15-a-side games. In the Grade 6 tournament each half is 8 minutes long and allows for unlimited substitution of players throughout each game.
The format of the day ensured that our team would play 4 games, 3 pool games followed by a Final spread across the morning and into the early afternoon. Our draw had us playing against some powerhouse teams from the APS, namely Kings Christian College, Emmanuel College and Somerset College.
The attitude and perseverance our squad showed during our pool games was truly remarkable. Each team we came up against were highly skilled and it was evident that they had definietly been able to spend more time on the training pitch than we had during the season. What was remarkable though throughout every game was that each player never took a backward step, no-one complained and every boy gave 100% effort in everything they did, our players truly did Trinity proud.
After waiting to hear who we would be playing in our Final the boys excitement levels soared when it was announced that we would be playing Saint Stephen's College. Our game against Saint Stephens in the first round earlier in the year secured our Year 6 team their first victory of the Junior APS Season. In an instant all the boys confidence was back and they were enthusiastic, excited and ready to get back on the oval, for what would be for some, their final Junior APS rugby game.
What a difference a little confidence can make – the Trinity boys played their final with the flair and commitment their coaches knew was there the whole time. Trinity ran out convincing winners 26 – 12 and all the boys from both Trinity and Saint Stephens played the game in the best spirit of the day and all came off the field with huge smiles on their faces.
A massive thank you must be given to all the parents that came along and supported during the day, it was amazing to see the number of parents on the sideline for all of Trinity's games, and it was easy to see that we were probably the best supported Year 5/6 team of the day.
Special mention must go to Morrison, Alex, Flynn, Mason, Henry, Jett and Zach. These young men from Year 5 all played against teams comprised primarily from Year 6, a massive effort indeed. Our team for next year is looking strong!
I would like to wish all the Year 6 boys who put on the Trinity rugby jersey this year all the best as they transition into Senior APS next year and look forward to seeing them in the Senior APS Rugby system in Term 1 2023.
Thank you to Mr Meaney and Mr Nides for their help on the day and throughout the season. Additionally special thanks must also go to Mr Howells and Ms Knox for their help in all the behind the scenes work that ensured that Trinity could compete on the day.
Mr Jason Croll
Year 5/6 Rugby Coach