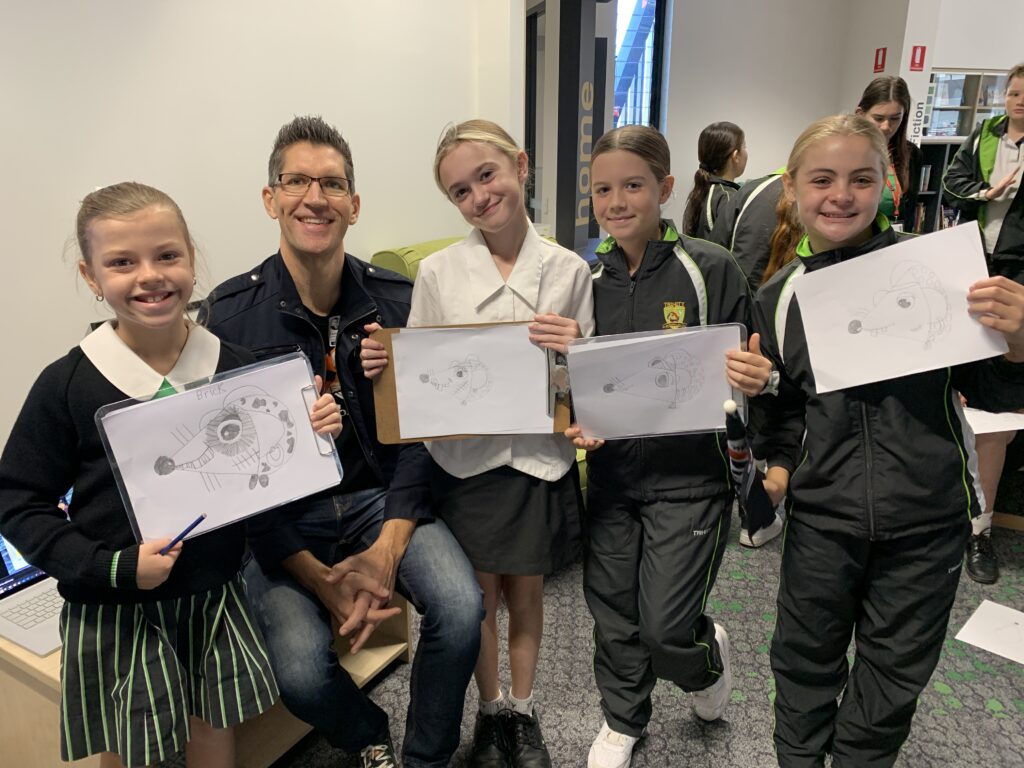 Last Friday, 19 May, award-winning author and illustrator, Dr Cameron Stelzer visited the Junior Years library. He ran sessions with all children from Prep to Year 5, sharing with them a love of literature, the process of creating a book and key illustrative techniques. Dr Cameron Stelzer has been a full-time author since 2004. He has written and illustrated thirty-two books for children and has worked with over eight hundred schools and libraries. His books have won eighteen international book awards and he has been a guest blogger for the Summer Reading Club and the Reading Adventure Club. He is one of our favourite 'Authors and Illustrators' at the library and we were honoured to have him share his incredible talent and knowledge with us all.
First up were the Year 5 children who had a specialised workshop that was an engaging and informative behind-the-scenes look at creating an illustrating a novel. Dr Cameron used exciting visuals, captivating stories, and humorous anecdotes to explore his story planning, character creation, writing and illustration. Using his Pie Rats series as a focus, the children competed in pirate trivia, illustrated their own pie rat and completed a tension raising writing task.
Then it was the turn of our Prep to Year 2 children who all joined together for a Stroogle session. They were all captivated as Dr Cameron read Stroogle Sails the Seven Seas from memory, searching the images on the big screen to identify different aspects of the illustrations and discover all the cleverly hidden clues.
Finally, all the Year 3 and 4 children took part in a highly creative session, participating in short writing activities where images are used to complement, enhance or substitute text. This session included elements of cartooning, onomatopoeia, direct speech and referred to Cameron's illustrated Scallywags novels.
All our boys and girls were buzzing with excitement both during and after the event, and we are so grateful to Dr Stelzer for sharing his talent as a writer, illustrator, presenter, publisher and entrepreneur with our students, as well as valuable inspiration about persistence, practice and commitment.
Miss Claire Purdie
Teacher Librarian – Junior Years